Join Kudos at Audio Show East, Ipswich, 3rd-4th November 2017
Ipswich high-end audio dealer Signals are once again putting on their excellent annual Audio Show East, which will take place at Trinity Park on 3rd and 4th November.
It's a really friendly and sociable event where you can meet several of audio's best-loved manufacturers, hear some of their new products and enjoy the music in a refreshingly relaxed atmosphere.
The Kudos team will be there with what promises to be a revealing demonstration: active versus passive operation. For some time, we've been working closely with selected audio manufacturers including Linn and Devialet to bring their exciting technologies into several of Kudos' top-of-range loudspeakers. The result is active operation, in which the loudspeakers' internal crossovers are bypassed. Instead, the amplifier's technology performs the crossover, bringing about a significant performance enhancement.
Now we're delighted to be adding Naim to the mix, who are making a version of their SNAXO analogue electronic crossover for Kudos loudspeakers. Come along and hear the result!
The 'active versus passive' demonstration will feature our just-launched Titan 707 loudspeaker with a pair of Naim's NAP 300 DR power amps and a 552 preamp. Sources will be the Naim NDS fed by Melco's high-res digital music library and Linn's LP12 deck.
Said Signals, "The Kudos guys have a knack of getting the musical stuff right both in terms of how it sounds and what they play. This will be interesting!"
Entry to the show is free, as is the ample car parking. There'll be a full bar and reasonably-priced snacks. What's not to love? Join us!
For full details and directions, head to Audio Show East 2017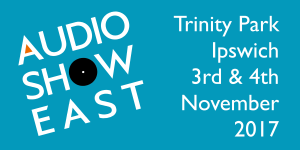 P.S. Even though it's a free show, registering in advance helps the folks at Signals gauge numbers and gains you entry into the prize draw to win a year's subscription to Qobuz Sublime, worth £349.99, kindly donated by Melco Audio.