Kudos Titan 707 at The Hi-Fi Show Live 2017, 21st-22nd October
If you're heading to The Hi-Fi Show Live this October, why not pop into one (or both) of the two rooms that will feature the new Kudos Titan 707: the Lancaster 1 Suite and Sandringham 6 Suite.
In Lancaster 1, digital audio experts Computer Audio Design (CAD) will demonstrate their truly innovative range of source components and power conditioners, partnered with Trilogy Audio's 925 Hybrid Integrated Amplifier and Kudos Audio's Titan 707 loudspeakers – a combination that promises to deliver a memorably involving musical performance. Warning: prepare to adjust your expectations 
of how incredible digital audio can sound!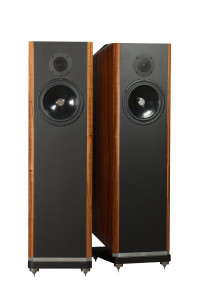 In Sandringham 6, AudioQuest will demonstrate their new range of Niagara power conditioners, designed to remove distortion and interference from your mains supply. The proof is in the listening, and the 'before and after' demonstrations will feature a Linn system with Kudos' Titan 707 loudspeakers running active with Linn Akurate equipment.
A smaller, more affordable version of our flagship Titan 808, the 707's world-class drive units are exclusive to Kudos and, as always, are seamlessly matched to enable our trademark minimalist, low order crossover. As will be demonstrated in the Sandringham 6 Suite, the crossover can also be by-passed to run the Titan 707 in active mode with selected systems including Linn, Devialet and Naim.
Holding everything together will be Quadraspire's Xreference rack in Lancaster 1, and equipment supports by Hi-Fi Racks in Sandringham 6.
About the show
The Hi-Fi Show Live is an annual high-end audio event organised by the passionate audiophiles that bring you Hi-Fi News magazine every month. The 2017 show will run over two days from Saturday 21st to Sunday 22nd of October within five conference centres in the grounds of the Beaumont Estate in Old Windsor, Berkshire.
Many of the key brands, equipment and systems demonstrated at the show will be exclusive to this event, so this is your one chance to hear them all under one roof, along with scheduled presentations and demonstrations by a mix of famous designers, engineers and audio personalities.
Find out more and book your tickets for The Hi-Fi Show Live 2017